---
&nbsp
Harry is now also the Champion of Austria.
&nbsp
In year 2019 we imported Nemesia from The Sweetest Coton (Nemi). Meggie (Nikita) has puppies with Harry (Mars) and all are wonderfull. We kept Blueberry. And Harry is C.I.B. champion.
&nbsp
Bustie, Blueberry, Bambi, Bony and Boss
&nbsp
Our Harry is Grand champion of CZ.
&nbsp
The year 2018 was great for us. Harry has the title of Champion of Croatia, Club junior champion, Club champion, Grand champion of Slovak republic, from two exhibition in Austria in a great competition he recieved 2x BOB. He is a father of nice puppies in Poland and Czech Republic. Angelika is a breed female and she is lovely. Our Nikita started very well, she has CAJC from club exhibition and more times excellent from exhibition. But the shows are not the most important. Their behaviour is perfect, they love people and other animals and we love them.
&nbsp
Mars finished the Champion of Slovakia.
&nbsp
Mars is the most succesful coton of Slovakia for the year 2017.
&nbsp
Mars is Champion of the Czech Republic.
&nbsp
She won twice in Brno the title CAJC and BOJ.
&nbsp
Saša (9 year old daughter) has from Nitra very excelent result by a very strict judge BOB, CACIB and CAC.
&nbsp
Mars is Junior Champion of Croatia
&nbsp
Mars passed through the bonitation with the result - everything excelent.
&nbsp
&nbsp
All our dogs are tested at all possible illness - negative and thez have clear results in all genetic tests.
&nbsp
Angelique stays with us.
&nbsp
If we will be in a hurry, all our news you will find on our fcb.
&nbsp
We wait for the puppies at about 27.3.2017. The father is very nice dog, who has the beauty in his name - Mr. Nice Guy Sleepy Hollow Ranch.
&nbsp
Harry won BOJ, CAJC, Saša won with him the competition Child and the dog.
&nbsp
But Harry loves everything. He is a very positiv dog. He received two times VP1 and he is very nice in the movement.
&nbsp
We decided, that Ginny will not go for some time now to the exhibitions. She really does not like it and she is afraid on the table.
&nbsp
Today we arrived with a new puppy at home, also from Karolina - Harry - official Mars.
&nbsp
Ginny received CAJC, but she does not like so much the exhibitions.
&nbsp
Our Ginny was very succesful on exhibitions with the results Exc.2.
&nbsp
Giny received not only Very promising 1, but also the grade The best junior:))

&nbsp
Giny received on Interdog Bohemia Very promising 1.
&nbsp
Giny, as we call our coton´lady, received on the International show in Brno - Intercanis - the grade Very promising 1.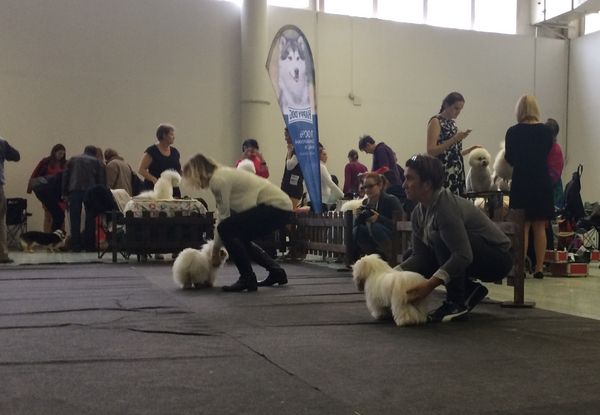 &nbsp
After the long searching (more then one year) we picked up Giny by the best breeder of coton de Tuléar in this time Karolina Daszkiewicz.
&nbsp
About
We are a small breeding kennel from Czech republic, existing from 2006.
Before we had always dogs and cats at home, but only the only the ones, they were not for the shows or breeding.
We have berger de brie - briards, Samojeds, Tornjaks, we had with them many success in shows, but the most important for us was always the character of our animals. Now we continue with the coton de Tuléar.